Painting Life One Inspiration at a Time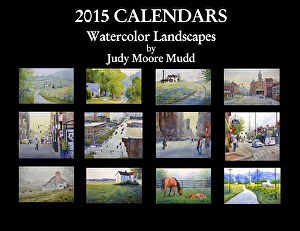 My 2015 Watercolor Landscape Calendars are now available. Go here for purchase information.

Artist's Note:
Many things inspire me to paint. I am never at a loss for subject matter. Whatever the subject, telling a story with mood and atmosphere is what I want in my paintings. I am an intuitive painter, allowing the flow of paint along with my feelings guide me to the finish. Unlike other mediums that stay put, with watercolor it is often the random movement and blending of paint on the paper that makes it beautiful so why not follow that lead? As an instructor, I enjoy communicating to the student not only what I am doing but also the reasons behind my decisions while I am painting. I find this absolutely essential to a student's artistic growth. I hope my paintings touch you in some way and give you as much pleasure as they gave me when I created them. I love this wonderful medium and sharing the joy it brings with others.